Careers
Succeed with Support from a Network of Specialists
Getting ready to graduate from college? Managing Director, Brandon Cline, invites you to consider an internship or full-time career as a Financial Representative with The Richardson Financial Group – the market leader in financial services solutions.
Our detail-oriented selection process focuses on mutual fit. You will meet with our Director of Recruitment, Kate Copeland, to explore more about our exciting career opportunities.
Those opportunities include:
Independence. As a Financial Representative, you are your own boss. You decide when to work, what clients to target, what goals to set.
Income. Your earning potential is determined by your own efforts, not someone else's corporate guidelines.
Impact. You gain the chance to affect people's lives, every day. The solutions you create for your clients can measurably enhance their future, offering the security and confidence that come with sound decisions.
The Richardson Financial Group helps you build a strong foundation to realize these opportunities. Brandon Cline's philosophy is to offer new Financial Representatives plenty of personal attention and ongoing training, enabling you to realize your full potential. With that kind of support for professional development, it's no wonder The Huntington Group's production per Financial Representative is one of the highest in the Northwestern Mutual system.
To learn more, visit the Northwestern Mutual Career Insights Website.
You may find that Northwestern Mutual is exactly the place to launch the next phase of your life!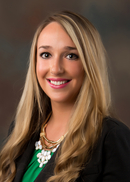 Kate Copeland
Director of Recruitment
kate.b.copeland@nm.com
Mobile 304-544-3816
My Networks: